Does any of this
☝️

ring true for you?

If the answer is a resounding YES!, then you're in the right place.
I get it.
The bond between a horse and their human is everything.
Let's capture what makes you swoon and smile about your equine "other half".
Click thumbnail to see full size slides
[unitegallery equine_m1]
Beautiful ways to showcase your images
First we'll create a wonderful variety of portraits.
Then we're going to find the perfect way for you to show off the ones you can't live without.
We'll create gorgeous artwork for your home, office and cottage!
Because why wouldn't you decorate with artwork that has special meaning for you?
Artwork that will bring a smile to your face – every time you see it.
Ready to hang wall art
Showcase your best friend through stunning artwork displayed on your walls. Choose from a single impact piece, or we can create a custom collection. No matter where you hang it, I guarantee smiles every time you see it. All wall art is created using the finest archival quality materials – that means each piece look exceptional, forever.
This includes Framed Acrylics, museum quality Guild Canvases, Gallery Wrapped Canvases and Framed Storyboards.
Storybooks
Storybooks are custom designed to tell the story of your day through a variety of images that spotlight the essence of your BFF and capture your bond together. It's a spectacular way to document lasting memories.
The hard cover features a full image and can feature your horse's name. It has a luxurious soft finish that begs you to pick it up and explore the story within. The pages are thick – preventing tearing or bending – and lay flat when your book is open, allowing for more impactful images.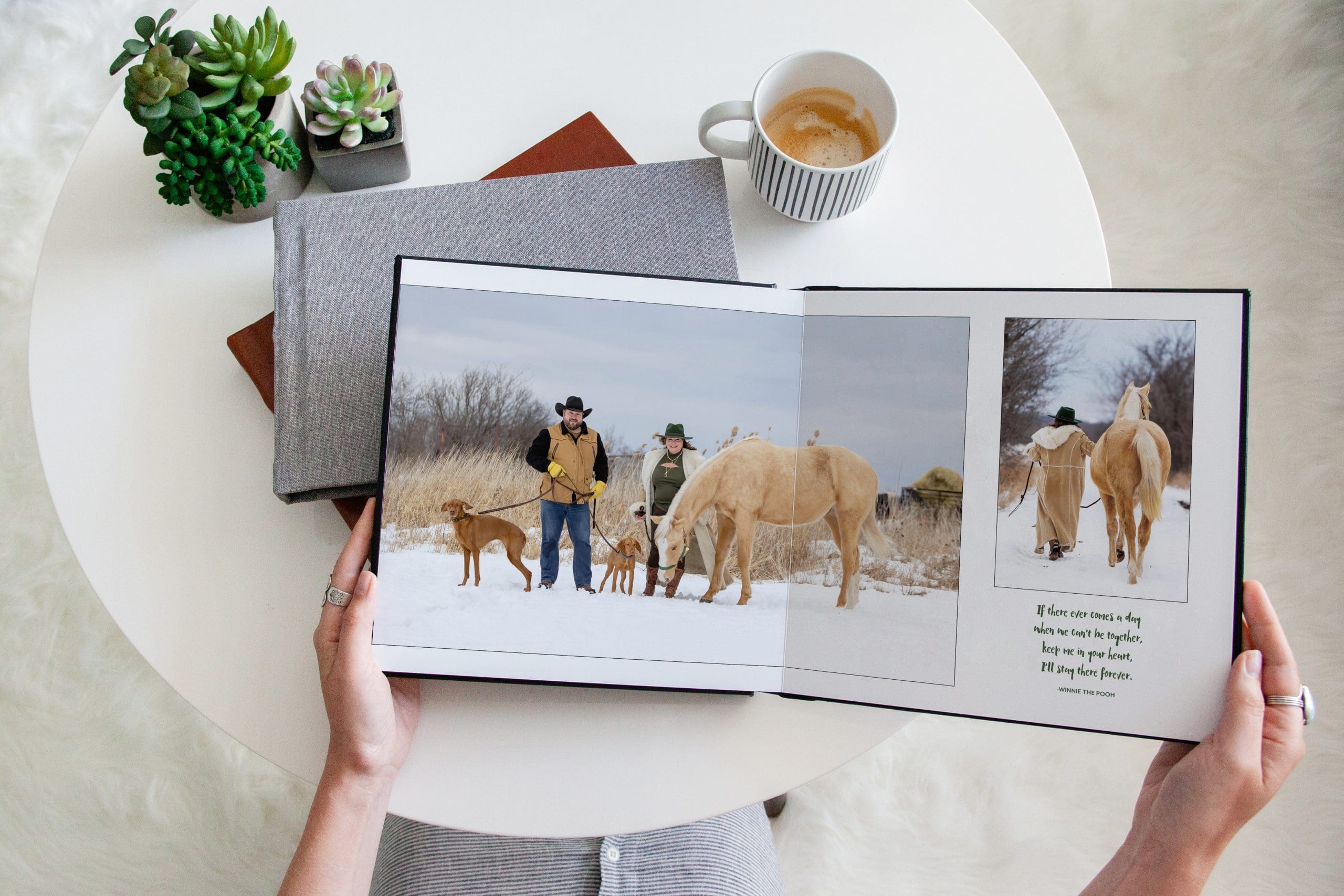 From the minute you book your session, to the moment your receive your final artwork – you'll enjoy a professional, custom experience (with a few laughs thrown in for good measure – I mean, it would be rude not to, right?!)
A Discovery Call
First we have a 15-20 minute call.  It's an opportunity for us to talk about what you might like to get out the experience. You can tell me all about your gorgeous pony, and we'll go over some details. If you decide to book, then the $395 session fee and a little paperwork is all we need to get you in my calendar.
Your Fab Photo Session
On to your session! You'll know exactly where to be, when, and what to do. We'll enjoy a relaxed, 60-90 minutes of photography, peppered with laughs and breaks along the way. How long we shoot, depends on how well our subjects cooperate. But I know it's been a great session when I come home wearing "eau de barn" perfume and a dollop of slime.
Oooos and Awwws
At your Premiere and Ordering Appointment, we'll go through a curated gallery of images. Some will make you chuckle and some will make you burst with pride. I'm there to help you to sort it to those you can't live without. We'll design stunning wall art, or tell the story of your day in a memorable Storybook – or maybe both! Whatever fits with your vision and tastes.
We can create custom artwork of your beloved dogs and horses that will warm your heart, and tickle your fancy, long after they've gone.
Click thumbnail to see full size slides
[unitegallery equine_m2]
Signature Session $395
The Signature Session is custom to your needs and vision. It includes:
a planning call so I can learn what's most important for you in your equine photography experience – and all about your best friend
a fabulous 90 minutes photo session for you and your horse, you can include more than one horse or even your dog if they're friends
travel time up to an hour from St. Catharines
your Premiere and Ordering Appointment – where we'll go through a curated gallery of lightly edited images and you choose the images you can't live without!
finishing touches and edits to all your purchased images
Dramatic Sessions $350*
Dramatic black background Sessions are a great opportunity to have your horse photographed artistically. They include:
up to one hour of travel time to you
30-45 minutes of photography for one horse
your premiere and Ordering Appointment where you'll choose your favourite images and we'll design how they and where they'll be displayed !
*Pricing based on one horse, add on more sessions for $150 each (can you be your own horses, or other horses at your barn).
"Our Storybook and wall art pieces are a fantastic memento of our anniversary milestone."
"Karen was so great, flexible and such a professional throughout the planning, session and review process.
She pulled off an amazing capture of our crazy family. SO worth it! Our Storybook and wall art pieces are a fantastic memento of our anniversary milestone."
That's entirely up to you. The Wall Art and Storybooks I offer are sourced from a handful of the best labs in the world. Why? Because I want you to be able to showcase your best friend in a way that is comparable to other artwork that you have in your home, with products that suit your decor – and will stand the test of time.
My session fee is $395 and my Wall Art options start at $495. Some of my clients choose to spend upwards of $5000 for their experience and artwork and some invest around $1000. It really depends on your vision for your space. 
If you want to showcase the spirit of your horse in a way that makes your heart skip a beat and enjoy it forever… let's talk. After all, we're going for a lifetime of smiles here!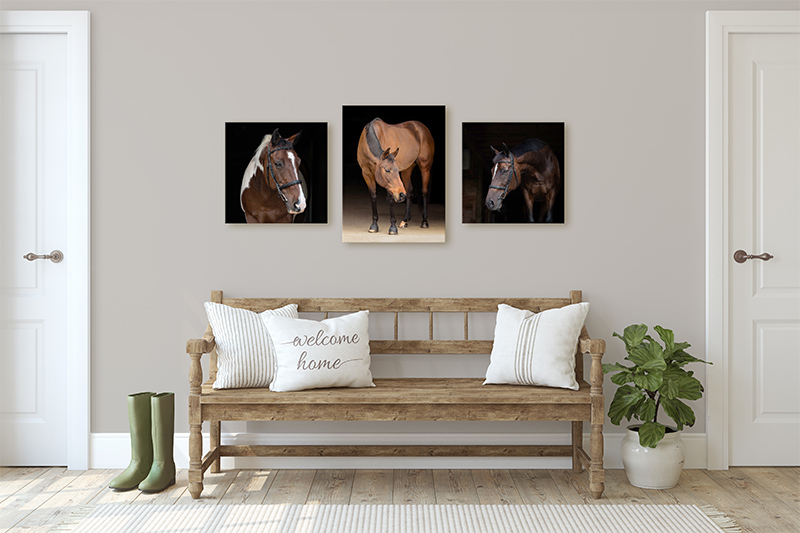 Indigo Pet Photography
Mobile: 905.932.1042
29 Montebello Pl., St. Catharines
Our pets are changing every day, let's capture them in all their glory. I promise to show their spirit with expressive portraits and create custom artwork solutions to suit your vision – so you'll always have those memories.
I specialize in photographing beloved dogs and equines throughout Niagara and beyond.