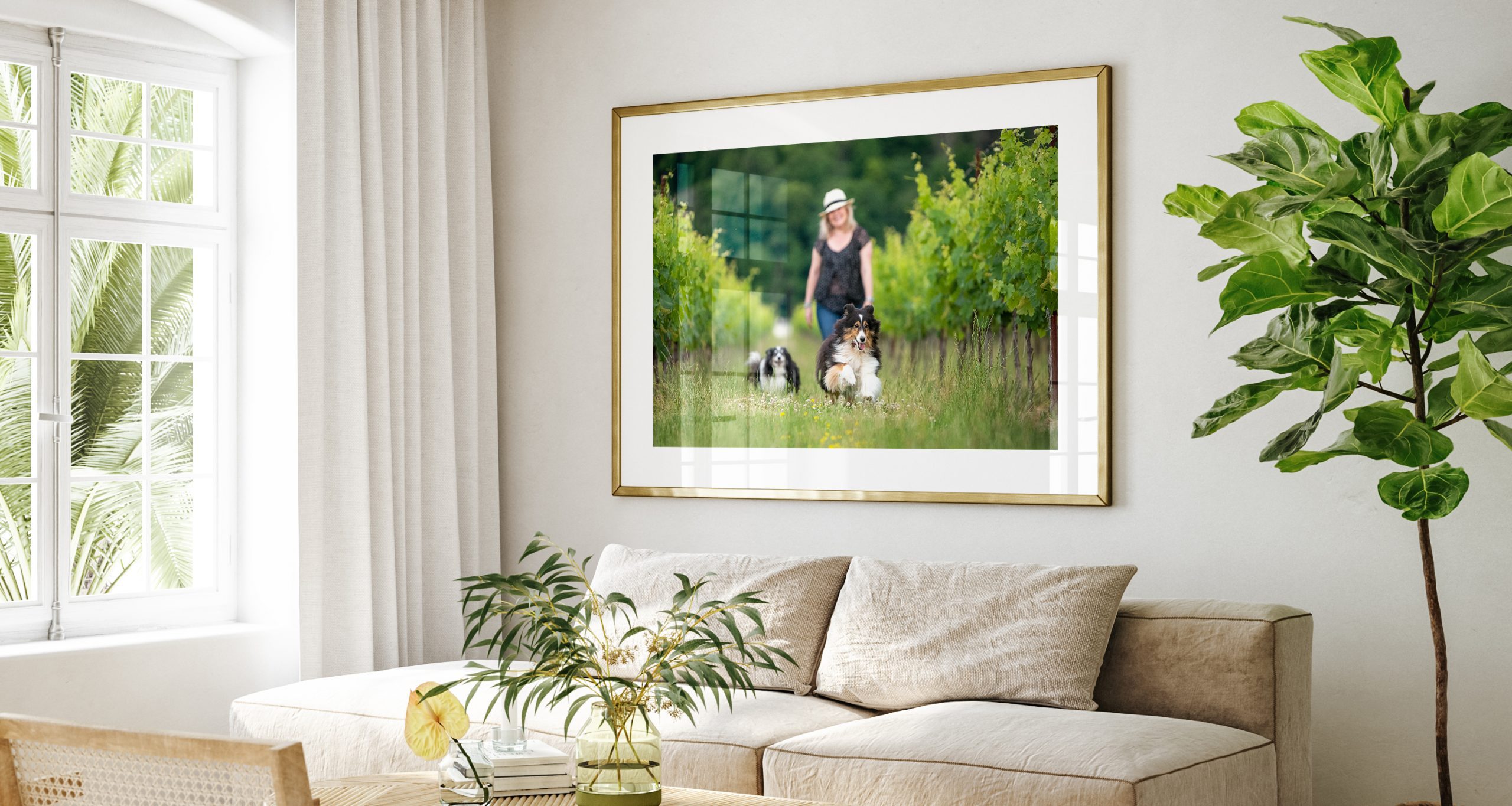 My dog is... my best friend my hero a diva my everything.
Does any of this
☝️

ring true for you?

If the answer is a resounding YES!, then you're in the right place.
I totally get you.
My sessions showcase the things about your pup that melt your heart and make you smile.
We can even document the special bond you share.
Beautiful ways to showcase your images
First we'll create a wonderful variety of portraits.
Then we're going to find the perfect way for you to show off the ones you can't live without.
We'll create gorgeous artwork for your home, office and cottage!
Because why wouldn't you decorate with artwork that has special meaning for you?
Artwork that will bring a smile to your face, every single time you see it.
Ready to hang wall art
Showcase your best friend through stunning artwork displayed on your walls. Choose from a single impact piece, or we can create a custom collection. No matter where you hang it, I guarantee smiles every time you see it. All wall art is created using the finest archival quality materials – that means each piece look exceptional, forever.
This includes Framed Acrylics, museum quality Guild Canvases, Gallery Wrapped Canvases and Framed Storyboards.
Storybooks
Storybooks are custom designed to tell the story of your day through a variety of images that spotlight the essence of your BFF and capture your bond together. It's a spectacular way to document lasting memories.
The hard cover features a full image and your pet's name. It has a luxurious soft finish that begs you to pick it up and explore the story within. The pages are thick – preventing tearing or bending – and lay flat when your book is open, allowing for more impactful images.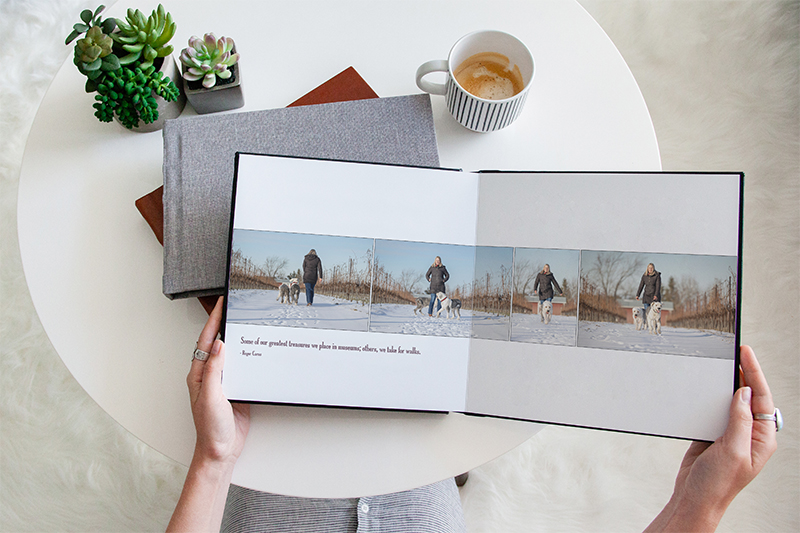 So how does it work?
From the minute you book your session, to the moment you receive your final artwork – you'll enjoy a professional, custom experience (with a few laughs thrown in for good measure – I mean, it would be rude not to, right?!)
First we have a call. You tell me what you would love to have at the end of this experience. I learn all about your amazing best friend and explain what the experience is like. If you decide to book we'll start planning the details.
Next step is your session
On to your session! You'll know exactly where to be, when, and what to do. I'll demonstrate how you can help me. Then we'll have an easy-going, fun time peppered with laughs and breaks along the way.
In the next step, you'll see the photos and order what you love, I can help you so this is easy peasy.
At your Premiere and Ordering Appointment, we'll go through your images together. We'll sort to your favourites and create stunning wall art, or retell your day in a memorable Storybook. Whatever best fits with your vision and tastes.
I'm there throughout to answer your questions.
We can create custom artwork of your beloved dogs and horses that will warm your heart, and tickle your fancy, long after they've gone.
Signature Session  $395
The Signature Session is custom to your needs and vision.
a planning call so I can learn what's most important for you in your pet photography experience – and all about your best friend
your fabulous photo session (typically 60-90 minutes) for you and your fur family
travel time up to an hour from St. Catharines
your Premiere and Ordering Appointment – where we'll go through a curated gallery of lightly edited images and you choose the images you can't live without!
finishing touches and edits to all your purchased images
Shorty Sessions (prices vary)
Shorty Sessions are held only 2-3 times per year. They take place back to back at a single special location (i.e. Barrel Room Shorty Sessions at Featherstone Winery.)
book your date and time online
sessions are 20 – 30 minutes long. 
registrations are on a first come, first served basis. 
maximum of 2 dogs

 

per session
"…my photos tell a happy story about our family."
"We have had a lot of photo shoots with our dogs over the years and our experiences have been disappointing… unappealing locations, very short sessions and poor quality.
Our experience with Indigo Pet Photography was beyond our expectations. My pets were comfortable and engaged and my photos tell a happy story about our family."
That's entirely up to you. The Wall Art and Storybooks I offer are sourced from a handful of the best labs in the world. Why? Because I want you to be able to showcase your best friend in a way that is comparable to other artwork that you have in your home, with products that suit your decor – and will stand the test of time.
My session fee is $395 and Wall Art options start at $495. Some of my clients choose to spend upwards of $5000 for their experience and artwork and some invest around $1000. It really depends on your vision for your space.
If you want to showcase the spirit of your pet in a way that makes your heart skip a beat and enjoy it forever… let's talk. After all, we're going for a lifetime of smiles here!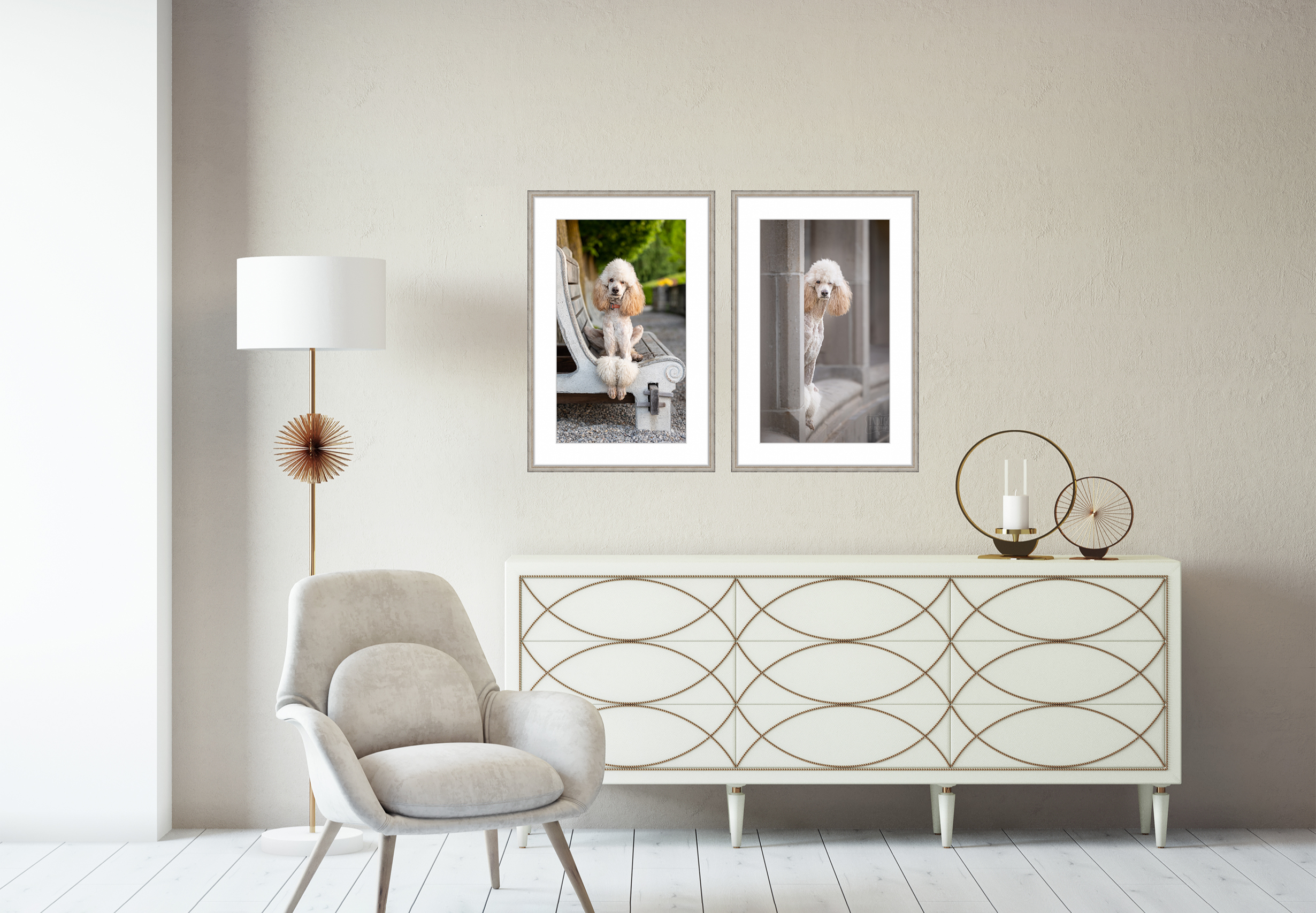 My dog would never sit still, can you still get amazing photos?
Some dogs are super high energy and busy. Some are easily distracted (can you say "squirrel!"). But here's the good news – it's not imperative that your dog sit still for longer than a split second! I have a super quick trigger finger and lots of techniques to draw your pet's attention, even if it's just for a split second – because that's all I need to get a gorgeous portrait of your pup.
My dog is nervous of new people/situations, how would you deal with that?
Sometimes we all need a moment to get our bearings and figure out new people! I get it. If I know your dog is nervous, when I arrive I'll ignore them completely. I'll be dropping treats on the ground around me to help them see that good things happen when I'm around and I have a few other tricks up my sleeve to build their trust. I'm happy to take as much time as your dog needs to warm up to me and my camera.
We'll choose a location that has few, if any, distractions, and they can have a good sniff  to check it out before we start. Patience is the name of the game with animals and I have it in spades.
My dog can't be off leash, are all the dogs you photograph off leash?
Heck no! Most of the dogs I work with are ON leash. It's safer that way. I have a 20 ft. leash that we can even use can even capture awesome action shots.
I use the leash to help manage distracted dogs and keep them in place. So, as you see, a leash can be an asset, not a draw back.
I remove leashes in post production on images that you purchase. That's why all the dogs I photograph are off leash!
Can I be in some of the photos with my dog?
Absolutely! In fact I highly encourage it. A beautiful portrait with your pet, candid shots for a Storybook, or even images where you're "in, but not in" the shots are a wonderful way to capture your relationship and keep the memories alive.
Do you have payment plans?
For your convenience, I do offer payment plans. Make payments that suit your budget, so that you can have your dog's portraits exactly how you want to enjoy them – e.g. Framed Wall Art, a Storybook – whatever makes your heart happy.
Indigo Pet Photography
Mobile: 905.932.1042
29 Montebello Pl., St. Catharines
Our pets are changing every day, let's capture them in all their glory. I promise to show their spirit with expressive portraits and create custom artwork solutions to suit your vision – so you'll always have those memories.
I specialize in photographing beloved dogs and equines throughout Niagara, Burlington, Oakville, Cambridge… and beyond.