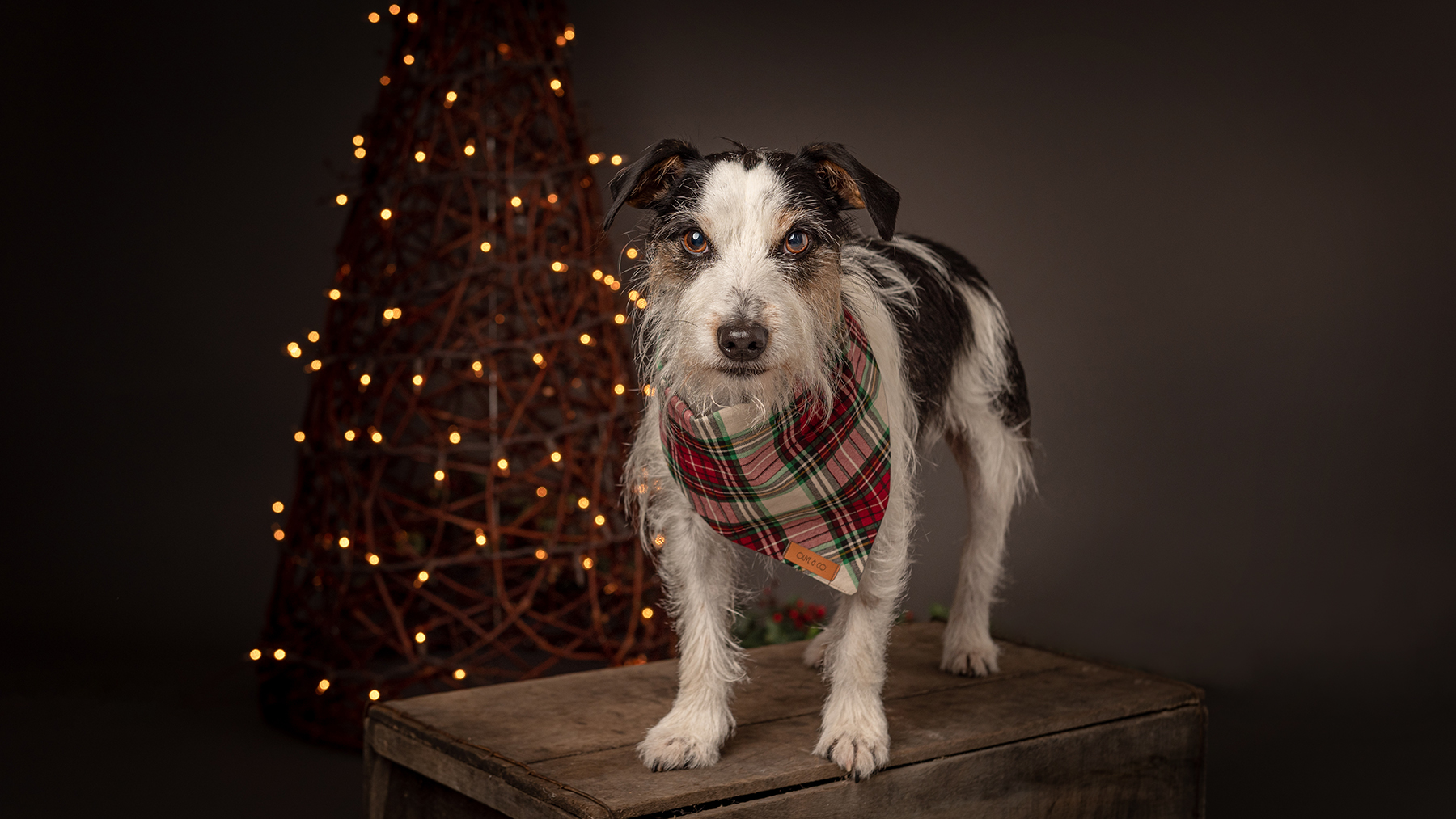 Indiana Jones' 2019 holiday portrait. Deck the Dogs is all new!
Deck the Dogs!
Sunday November 8 and Monday November 9th
Join me for a jolly time at my new Deck the Dogs Sessions!
Gorgeous natural wreaths and crowns made from lush greenery plus other festive items will be on hand to "deck the dogs". We can dial the festiveness up, or down, depending on your taste.
The Sessions
20 minute portrait sessions
(in 30 minute time slots to allow for distancing and sanitizing between sessions)
We can dial the festiveness up, or down, depending on your taste, but the main attraction is definitely the gorgeous wreaths and crowns with seasonal greens that are being handcrafted specially for the dogs!
GIVING BACK: 

$25 from every session goes to Angel's Rest Rescue, a dog hospice in Niagara on the Lake.

More info about the rescue in the FAQs section below!
Location: Cave Spring Vineyard, new tasting room, in Beamsville
Pricing and packages
$125 reservation fee (this holds your place and becomes a $125 credit to spend on your selections!)
Single 8×10 matted prints available for $125
add the matching digital file to a print purchase for $100
add a metal ornament to a print purchase for $75
You can also purchase other products, including other sizes of gallery wrapped canvas and framed prints, from my regular product menu.
Or save BIG with one of these packages:
Santa's Sleigh: $595
a stunning 16×20 piece of wall art (canvas or print)
3 – 8×10 prints, matted or mounted with matching digital files
2 metal ornaments
Santa's Bag: $495
5 – 8×10 prints, matted or mounted
1 matching digital file
1 metal ornament
Frequently Asked Questions
Can I just buy a digital file for Christmas cards?
Digital files are only available as an add-on purchase to a print. Use your product credit to purchase a single print and add the matching digital file to your order for $100.
Digitals are also a bonus in the packages on offer. (no substitutions)
Can humans be in the portraits too?
Up to two humans and two dogs can be in the portraits together. If this is your objective please be sure to let me know in advance. We have 20 minutes to create your images, and if a family portrait is what you'd like, we'll focus on that first.
Can I have 3 or more dogs in the photo?
Given that we only have 20 minutes, the number of dogs per time slot is limited to 2. If you have more than 2 dogs, let me know and we can see if we can work something different out for you!
What is Angel's Rest Rescue?
Angel's Rest Dog Rescue and Sanctuary is a registered charity in Niagara on the Lake that provides a comfortable home for small dogs whose owners have died or can no longer care for their pet due to illness, or rescues and strays picked up by the Humane Society and other organizations, with no hope of being placed with another family.
Can I do anything else to help Angel's Rest?
There is no obligation to but, please feel free to bring cans of wet dog food or pee pads to the event. I'll  make sure everything gets delivered to the rescue with your best wishes!